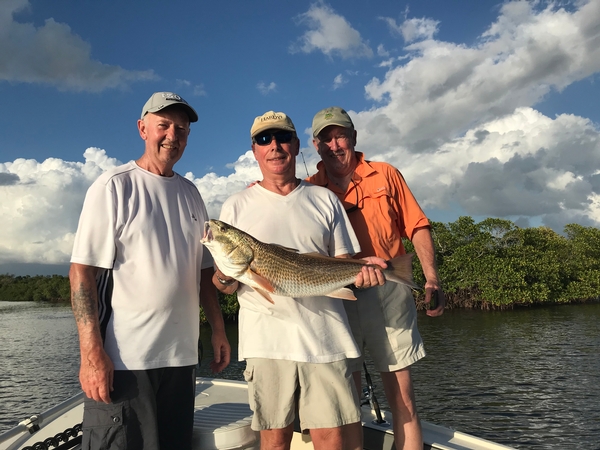 As temperatures cool in the upcoming weeks the fishing will continue to be hot. Its a great time of year to get out on the water and enjoy mild temperatures and beautiful scenery.
The Snook and Redfish bite has been great the past couple of weeks. The residual red tide has been in the gulf so the fish have been concentrated in the bays, rivers and creeks.
I have had lots of happy customers with high catch rates of Snook, Redfish and Jacks. We have been fishing Mangroves, Docks and Oyster Bars and all have produced fish. Use live shrimp or pilchards and artificial baits will work too. I like Edge Hybrid Flurry and Wyze Guy Bada Bing Jerk Bait.
Reef fishing has been tough but is slowly coming back with some Spanish Mackerels and a few Triple Tail. Look for the Spanish Mackerels busting on bait schools and cast small white or chartreuse jigs at them. When fishing for Triple Tail I like to cast a free lined shrimp at them. Look for them on swim buoys and channel markers.
The Season is here so reserve a fishing trip with your favorite captain before they are all booked up solid.
Capt. Steve Nagy
239-398-1528
Posted in: News