Florida Fishing
Florida is the fishing capital of the world with so many species to target. You can fish all year long and get many different fishing experiences depending on the month you are fishing. Captain Steve is a seasoned captain that specializes in fishing the inshore grass flats and mangrove islands of the Bonita Springs area for Snook, Redfish, Trout and Sharks.
Captain Steve also targets other species of fish such as Tarpon, Grouper, Snapper, Cobia, King Mackeral, Tripletail many others based on season. The Southwest Florida area is a great place to fish with so many different species to target at different times of the year.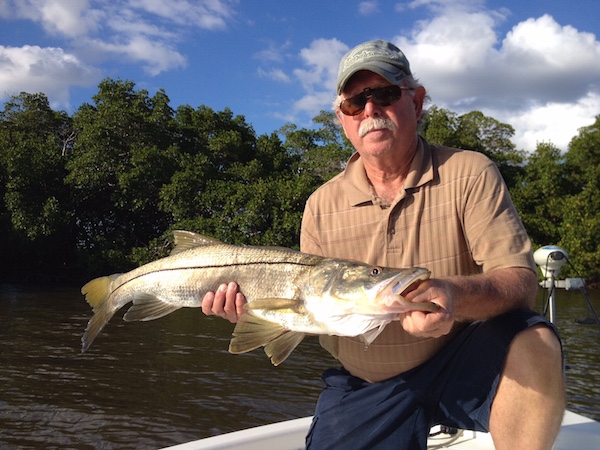 Snook
There are 4 species of snook in Florida and we mainly target the "Common Snook" which as the name implies the most common and also the largest of the snooks. The combination of mangrove islands, and brackish water makes Estero Bay the perfect habitat for these hard hitting jumpers. January and February are decent months for fishing snook. The action gets better in March, and really heats up in April and runs strong right through October. The snook bite tapers off in December and will pick back up in March. This does not stop us from targeting some of the best inshore fishing Bonita Springs has to offer.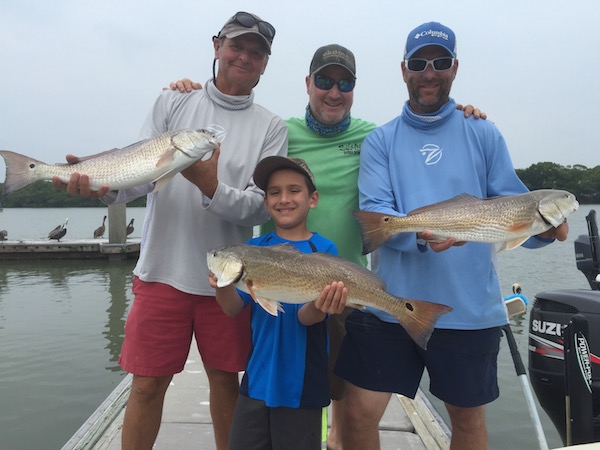 Redfish
The redfish or red drum are at home among the Grass Flats, Mangroves and Oyster Beds in the warm waters of Estero Bay. Redfish are a hard hitting, fast pulling sport fish known for some spectacular runs. Redfish can be seen tailing year round, with the hottest action coming in September, October and December as the water cools off. Redfish fishing is still a great bet during the cooler months between December and April, then drops off a little during the hot summer months of May, June and July. These battle hardened warriors will test the the skill of any angler on light tackle.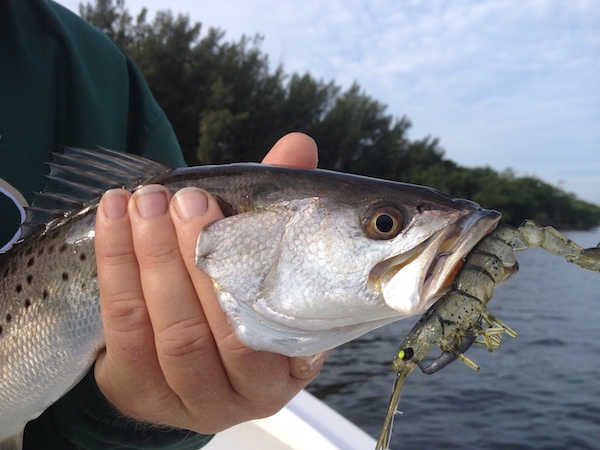 Sea Trout
Sea Trout or Spotted Drum, are the easiest of Estero Bay species to target and perfect for beginner anglers or any angler that wants to catch a lot of fish. Favored for it's willingness to strike both live baits and lures, Sea Trout are also excellent table fare. Drifting across the Grass Flats with offerings of Shrimp, or Pinfish will entice the school to eat. Once the school starts to eat, the bite can last an hour or more. Sea Trout are always a popular winter species around Bonita Springs . The winter months of January, February and March are great for Trout and remain excellent in early spring. Trout fishing slows down somewhat during the summer heat and picks back up in late fall and gets strong again in November and December.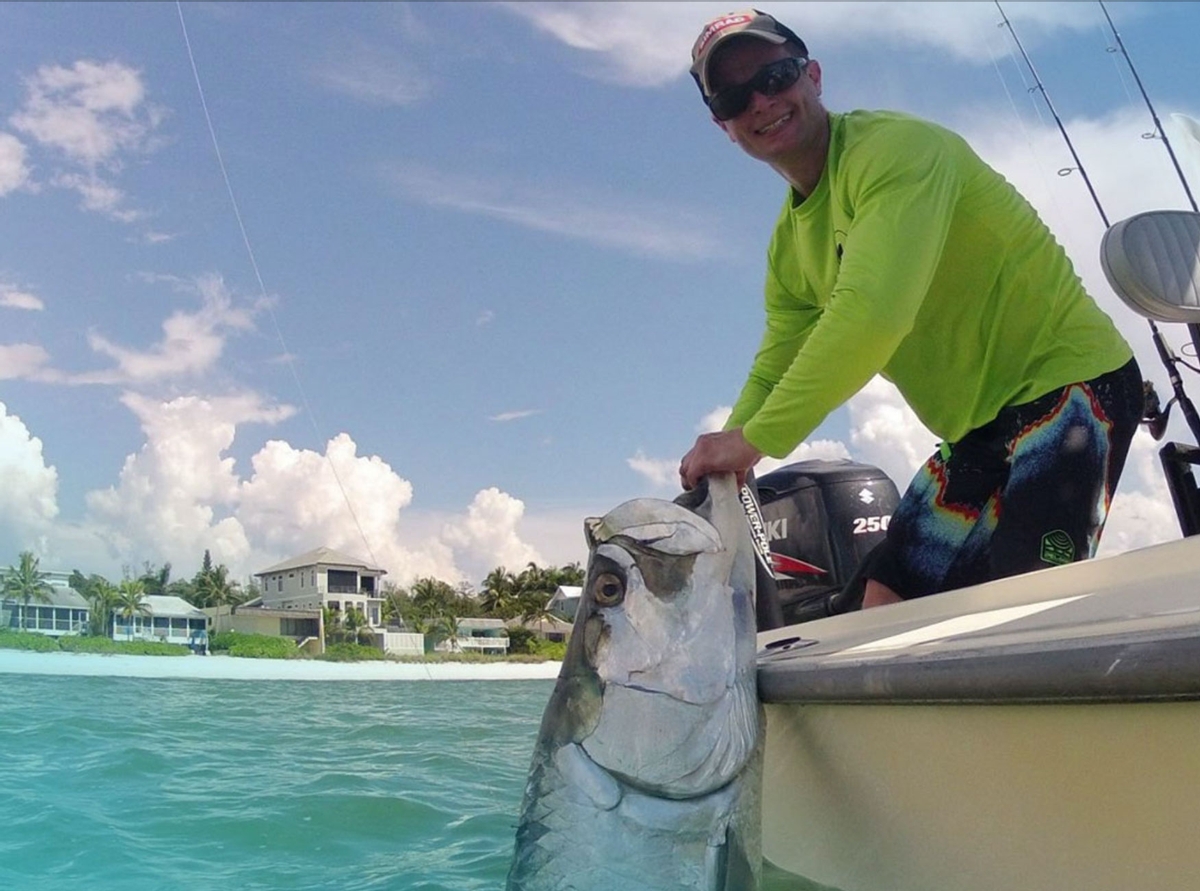 Tarpon
Tarpon are a strong fighting fish with some dramatic jumps.They will test the best anglers at there skills. It is common to catch tarpon 100 pounds and bigger. The tarpon migrate North in the spring starting in March. They move up the Gulf coast along the beaches and back south in the fall, starting in October. We do have resident juvenile tarpon year around. Best months for tarpon are April, May, June and July.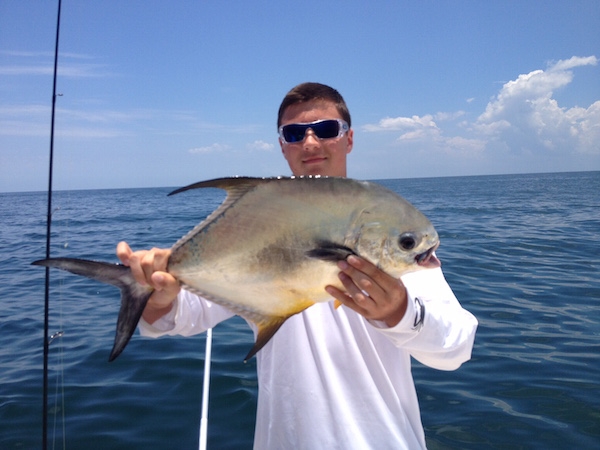 Permit
Permit is one of the most elusive fish, they are easily spooked. It requires a perfect presentation of a bait to hook into one of these bruisers. We have schooling Permit over reefs in the spring, summer and fall. These are big Permit, 20-40 pound class fish. Permit are a strong fighting fish and once hooked they will make hard runs, trying to break you off on the reef. Bring your "A" Game if you want to see one up close!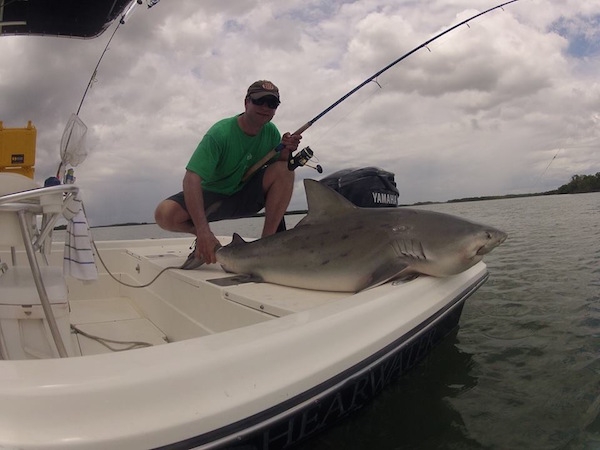 Shark
Numerous species of shark use the Mangroves of Estero Bay as it's hatchery. You can find Lemon Sharks, Black Tip Shark, Bull Shark and even Hammerhead Sharks moving in and out of of the bay through the passages from the gulf. The most common being the Bonnethead Shark, a close relative to the Hammerhead, but only growing up to about 3 feet, they will readily take a live bait and put a hurting on any angler.
Along with the targeted species of fish we specialize in, you can also expect to catch Mangrove Snapper, Sheepshead, Gag and Goliath Grouper.