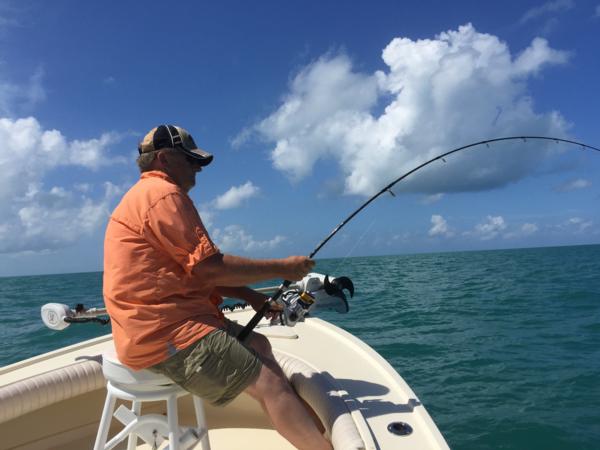 There are still Tarpon around Fort Myers Beach and Sanibel. Look for rolling fish in 22' of water. Live Threadfins or Crabs will work well. Big Flys in brown or purple will get their attention. Remember to respect other angler's that are on schools of Tarpon. Please don't run over their school to get to where you are going or cut in front of other anglers. A little respect goes a long way.
July 1st Gag Grouper open. Gags are my favorite eating fish and a tuff fish to turn away from a rock pile or wreck. Water temps should be in the high 80's so I would start looking for them in 50' of water out to 80' of water, it wil depend on how hot the water gets. Live Pinfish or Squirl Fish pinned to the bottom will be your best bet. Bring a few live shrimp with you, there should be a few good Snapper hanging around the same rock piles or wrecks.
Sharks seem to be everywhere inshore and offshore. You can never chum too much for Sharks. Plenty of 5-10' fish along the beaches. I like to use a big piece of Bonito or Jack and float it under a ballon.
There is also alot of Spanish Macks on the nearshore reefs. Chum with Silversides. Cast small spoons or live Shrimp on a long shank hook to keep them from cutting you off.
The inshore bite is early morning or late evening during the cooler parts of the day. Redfish under the bushes on a high tide. I have been doing well using Savagegear Manick Shrimp or the small Manic Crab. Work it slow and bounce it on the bottom.
Snook can be found in the passes, beaches and outside Islands. Small white bucktails, Savagegear TPE Shrimp or a Panic Prey top water plug. Look for cruising Snook along the beaches and cast infront of the fish so not to spook them. It gets hot fast so make sure to hydrate with lots of water and use lots of sunblock.
Book a trip today and get on the great fishing action this summer.
Posted in: News