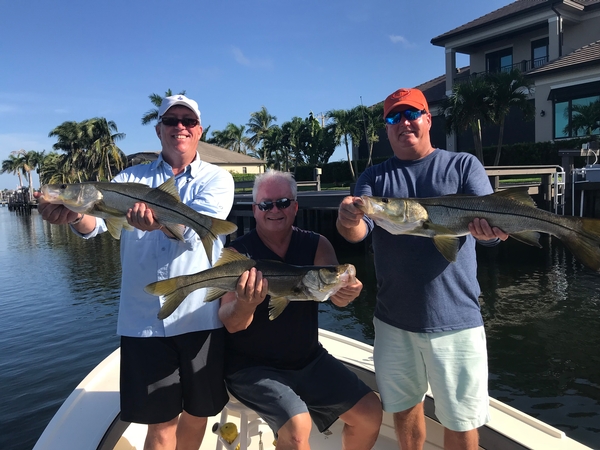 Despite the red tide the fishing has been great!
I have been fishing south of Estero Bay mostly Marco Island to Goodland. The bite there has been really good. We have been catching Snook, Redfish, Trout, Jacks, Mackerel and Sharks.
Snook has been on docks and beaches. You are able to sight fish them on the beaches. Try casting a Wyze Guyz Tackle Baba Boom Jerk Bait or a live Shrimp. Also try skipping the jerk bait under the docks to lure your fish in.
Trout have been on beaches and in small bays with current. Bouncing a small jig off the bottom of a live shrimp under a float works great.
The Redfish bite has been good as well. We have been catching a few short Reds the past two weeks in the cuts and passes using a 3/8 ounce Bucktail Jig. I like to cast to the mangroves as close as possible and bounce it off the bottom. Tip it with a piece of shrimp or use your favorite scent on it. I like Hot Sauce by Edge Fishing. It has a think consistency and last a long time.
There have been Bull and Hammerhead Sharks off the beaches and outside of the passes. I like to use fresh mullet to catch these exciting fish.
Call to schedule a Fall Fishing Trip soon! The fishing is great and weather is some of the best of the year.
Posted in: News